Calendar–Upcoming Meetings and Events
SCTA Peer Assistance Office Hours:
Monday afternoons via zoom – an opportunity to ask questions about the contract, leaves of absence, discuss issues with admin, payroll, & etc. For the meeting link please email your full name, school site/program and the topic of your issue to: scta@saccityta.com or call 916-452-4591.
---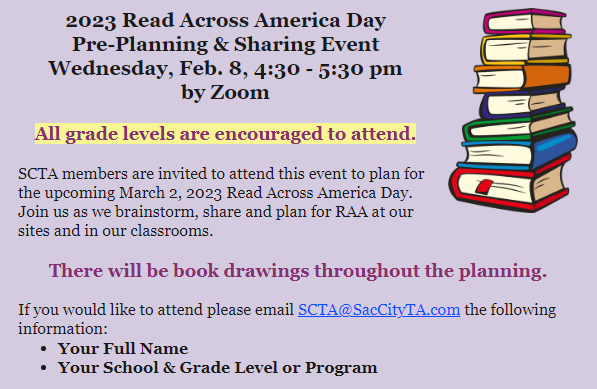 Links:
---

SCTA Grants for New Educator Weekend
Apply by Friday, February 17
SCTA is awarding grants to attend the New Educator Weekend (NEW) conference!! March 10-12, 2023 @ the Santa Clara Marriott. These SCTA grants are available for new educators with 0-5 years of teaching experience.
The conference has everything that educators need to be successful in their first years of teaching, including sessions about classroom management, creating engaging classrooms, lesson plans and ideas, connecting with your union, student loan forgiveness information, member benefits, project grants and more. You'll leave the conference feeling inspired, motivated and with a knowledge of what you need to do to be even more successful in your classroom.
To apply submit this application to SCTA@SacCityTA.com by, Friday, February 17, 2023.
Recipients of the grants will be notified by February 24.
Earn Free University Units to Advance on the Salary Schedule:
Attend a CTA conference and register for University Credit and CTA will pay for up to 6 university units click here to for more information.
---
Announcing SCTA Election Season 2023!
This year, the SCTA election will take place from March 8 – March 14, 2023. Active SCTA members will be eligible to vote for the following: 
1. SCTA General Election for SCTA Board of Directors and State Council Representatives
2. SCTA Local NEA Representative Assembly Delegates
The election timelines, announcements & candidacy forms may be viewed by visiting the SCTA Elections web page.
---
CalRTA $200 Mini Grants
Enter by March 31
CalRTA Division 5, is offering $200 mini grants to active teachers for classroom support. They will randomly select 10 names on November 30 and another 10 names on March 31. Please enter only once. If you enter by November 30, you will also be entered for the March 31 drawing. To enter please visit: bit.ly/CalRTADiv5MiniGrant2022-23
Please enter only once.
---
To RSVP to any of our events please email your name, school, & mobile# to: scta@saccityta.com