Sac County Recommended 14-Day Closure of New Joseph Bonnheim Due to COVID: Supt. Aguilar Failed to Inform the Community
Emails recently obtained by SCTA confirm that the Sacramento County Department of Public Health recommended the closure of New Joseph Bonnheim for 14 days due to COVID. According to one email from SCDPH's Tanner Misono to Victoria Flores dated Thursday, September 2, 2021, SCDPH "reviewed the situation as a team and have decided that it would be recommended for New Joseph Bonnheim to close for 14 days from today."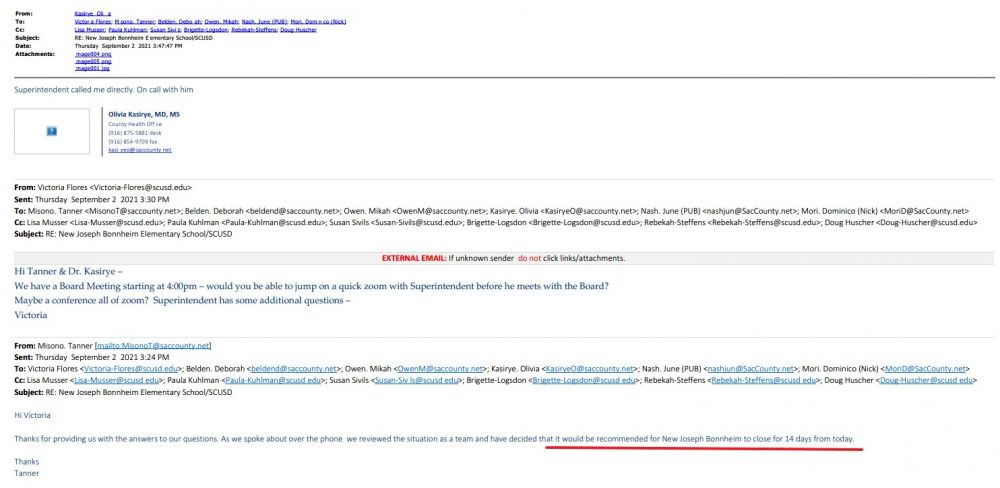 Minutes later, as the email chain establishes, Superintendent Aguilar spoke directly to County Health Director Olivia Kasirye, and immediately prior to the beginning of that night's school board meeting.
It is not known whether Mr. Aguilar disclosed the recommendation in closed session, but the item was not discussed in open session as required by law. It is also a violation to discuss this matter in closed session, since health and safety of students and staff are not among the very limited number of items that are permissable to discuss in closed session.
Mr. Aguilar also never revealed the recommendation in a conversation with SCTA on Friday morning September 3, nor with the NJB principal and staff during a Zoom meeting on Friday afternoon, September 3. The District also did not inform parents of the recommendation at a school forum, Friday evening, September 3. Mr. Aguilar did not attend the forum
Still not revealed is the content of the conversation between Mr, Aguilar (and possibly other Sacramento politicians) and Dr. Kasirye that led the County to back away from the recommendation and conduct testing instead of closing the school for 14 days.
The existence of the County's recommendation was revealed for the first time by SCUSD in-house counsel Raoul Bozio and Health Services Director Victoria Flores during negotiations with SCTA on Thursday, September 9, 2021 after the District tried to evade answering questions about the outbreak at New Joseph Bonnheim.
After Thursday's bargaining, school board member Jamee Villa posted on Facebook that the County had not made such a recommendation, a statement that the emails prove is demonstrably false. The emails suggest either board member Villa had not been informed or she was inaccurate when informing the public.
Superintendent Aguilar's job requires him to be transparent, especially when it comes to the health and safety of students and staff. Regardless of whether one agrees or disagrees with the decision to close the school, the public, particularly the parents of NJB students, had a right to know.
School districts across the country have shown the pathway to keeping schools open in the midst of this pandemic is prioritizing health and safety and more transparency, not less.
One final note: today we were informed that two additional New Joseph Bonnheim students tested positive for COVID.