Chief Business Officer Confirms SCUSD Has Not Had a Structural Deficit, While Lead Negotiator Validates SCUSD's Ability to Afford SCTA's Proposals
In-House Counsel Reveals that SCOE is
Aiding SCUSD with Bargaining Strategy
Chief Academic Officer Acknowledges That SCUSD Has Staffing Crisis, While District Unable to Explain How Demanding $10,000 Cut in Average Teacher Take-Home Addresses Staffing Crisis

Last night's bargaining session with the District was extraordinary.   Chief Business Officer Rose Ramos joined the District's bargaining team for the second time in a row, and again provided valuable information. After confirming that the District had operated with a surplus for nine out of the last ten years, CBO Ramos then stated that "the District has never claimed it had an actual structural deficit; but we have a projected structural deficit."  

We immediately expressed our appreciation for CBO Ramos's willingness to state openly what the numbers clearly demonstrate: to have a structural deficit, the District first has to have a deficit, which is a mathematical impossibility when SCUSD has had a surplus for 9 out of the last 10 years. 

That explains how the District unrestricted reserve fund has grown to $103.7 million, the highest in SCUSD history.   Ramos's statement about a "projected" deficit expressed another significant admission: the District budget projections have been wildly inaccurate, especially since Jorge Aguilar has been the superintendent. 

Last year (2020-21), for example, SCUSD "projected" a $75 million deficit, only to end the year with a $19 million surplus. Under Mr. Aguilar, SCUSD has repeatedly "projected" a structural deficit, when the District's actual performance shows it has a structural surplus.   Kudos to Ms. Ramos for her statements and we look forward to her on-going participation in our negotiations as we continue to try to work with the District to reach an agreement.  

SCUSD Lead Negotiator Validates District's Ability to Afford SCTA's Proposals

Based on Ms. Ramos's statements, we asked Pam Manwiller, the District's lead negotiator, whether SCUSD was claiming an "inability to pay" for SCTA's proposals. Ms. Manwiller stated definitively: "The District is not claiming an inability to pay."  According to labor law, that means the District is admitting that it can afford SCTA's proposal.   Ms. Manwiller's statement is significant. According to state and federal labor law, if an Employer makes a claim of "inability to pay," it has the burden to provide the data and financial information to support its claim or it can be found to be bargaining in bad faith. Ms. Manwiller's admission, therefore, appears to confirm that SCUSD announcements regarding its financial status are more about its divisive public relations campaign against educators, while contradicting the narrative Mr. Aguilar and SCOE have been promoting for several years. The truth is that the District has operated with a surplus for 9 out of the last 10 years, has the largest reserved fund in its history, and has an additional $313 million in federal and state COVID dollars.   

SCUSD In-House Counsel Reveals That SCOE Has Been Advising SCUSD On Its Bargaining Strategy  

When she attended our bargaining session last week, Chief Business Officer Rose Ramos revealed that she, Superintendent Aguilar and SCUSD in-house counsel Raoul Bozio meet weekly with SCOE Superintendent Dave Gordon and other SCOE administrators to discuss the SCUSD finances, including our negotiations. Ms. Ramos also clarified that SCOE reviews and approves District bargaining proposals to SCTA, and reviews SCTA's proposals to SCUSD.  Based on Ms. Ramos's representations, we believe that a representative from SCOE needs to be directly involved in our bargaining, in accordance with state labor law, since SCOE is make decisions about our contract.  

Following up on Ms. Ramos's statements, we asked the District to provide documents related to those meetings with SCOE. The District provided Ms. Ramos's notes, with numerous entries redacted. In the past, the District has denied that SCOE has played a decision-making role in our negotiations with the District. But Ms. Ramos's description of the SCOE meetings challenged that claim.   

When we asked Mr. Bozio about the redactions, he claimed that the items were redacted because they would reveal SCUSD's bargaining strategy. When asked directly whether the District was developing its bargaining strategy with Dave Gordon and SCOE, Mr. Bozio confirmed that, yes they were.  

The District now is in a bind. If SCOE is a decision-maker in our bargaining, they need to have a representative at the bargaining table or the District is violation of California labor law. If SCOE is not a decision-maker, then the District has no right to withhold the information. Either way, it's now obvious that Dave Gordon and SCOE have not been providing impartial financial oversight to the District. as Gordon and Aguilar have repeatedly claimed. We will be pursuing this matter in a number of different forums.  

Chief Academic Officer Christine Baeta Confirms SCUSD Has a Major Staffing Crisis, District Can't Explain How Reducing Educators' Take-home Pay By $10,000 Per Year Helps to Address the Crisis  

Chief Academic Officer Christine Baeta contributed an additional perspective into the bargaining yesterday when she confirmed that the District had a major staffing crisis among certificated staff. The District still has over 600 students on the Independent Study waiting list, and approximately 200 certificated vacancies. 

Because of the vacancies, Ms. Baeta stated the District has withdrawn from creating 40 new academic intervention teaching positions because SCUSD simply can't hire enough staff. And while the vacancies has the District using 225 substitutes per day, SCUSD been unable to fill an additional 70 substitute positions per day, leaving thousands of students stranded.  

After Ms. Baeta acknowledged the staffing crisis, the District's bargaining team was unable to explain why Superintendent Aguilar continues to demand a five-year wage freeze, in addition to his demand for a $10,000 per year cut in the average take-home pay of teachers through increased health care costs. And SCUSD representatives had no answer how this unprecedented demand for take-aways occurred in a District which claims "Equity, Access and Social Justice" as a core value and the Superintendent, already one of the highest paid in the state, will be receiving a 17.5% salary increase over the same five-year period.  

The District's Demand for a $10,000 Per Year Cut in Take-Home Pay    

We asked the District to provide information that would allow us to determine the impact of the SCUSD health plan take-aways on educators' take-home pay. The information provided by the District shows that cuts are even more drastic than we initially estimated.   First, the District is demanding that every regular employee contribute 2% to the cost of retiree health insurance. The District ignores the fact that in our last contract, we deferred a 1.5% salary increase to offset these costs, in addition to the $20 per month that staff have been paying for over a decade. Superintendent Aguilar is now demanding even more. The total savings to the District for this demand are $4.2 million per year.    Second, in addition to the 2% contribution to retiree health insurance, the District is demanding even bigger contributions on health insurance. The monthly cost to employees, as provided by the District, is shown in the chart below.  The District calculates its savings on this demand at $17.4.   Together, the District is demanding that SCTA members assume $22.6 million in ongoing costs. The District is making similar demands on the classified staff represented by SEIU.   To make the District's demands more understandable we put together a few calculations to demonstrate the devastating impact the cuts would have.  


Here we look at the impact to educators and three different stages of their career: newly hired (Column A, Step 1), mid-career (Column C, Step 12) and most experienced (Column E, Step 20). The calculations include the 2% retiree health contribution demand and shows the impact based on the educator's insurance coverage: Kaiser or HealthNet, single-plan, two-party plan, or family plan. A pdf of this the chart below can be found here.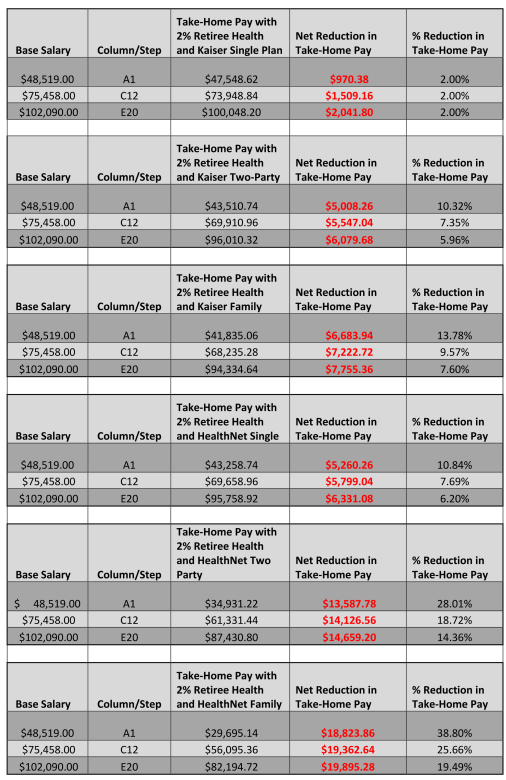 Finally, we asked the District to explain how cutting take-home pay by $10,000 per year helps it recruit and retain staff. The District gave no reply.